Meat is tasty, but vegetables are tastier
Michael Haase
15. August 2017
One eggplant convinced Michael that vegetarian food is not a compromise
3 years ago Michael had a bite of an eggplant that was cross-bred to optimize its taste. He was shocked. The light floral and citrusy notes blended perfectly with the buttery mouthfeel and an umami aftertaste. "When I tasted that eggplant, I got curious", Michael says. "Why do most eggplants not taste like that?" The answer is simple: Food retailers have commoditized vegetables, meaning that the only differentiator between two eggplants today is price. The result is that eggplant farming is optimized for yield rather than taste. With Plant Jammer Michael wants to change that food industry dynamic and bring back taste!
Hence, Michael decided to dedicate his career to improve the food supply chain, and make it plant-based. A plant-based diet can dramatically improve global health and sustainability. "If plants can taste like that eggplant, the whole world will go vegetarian in an instant", Michael says. Michael's journey started 1 year ago by starting www.plantjammer.com, now a 7 people startup who re-thinks plantbased cooking by using artificial intelligence.
Plant Jammer uses the latest and greatest in Artifiical Intelligence to analyse flavour of 3 mn online recipes and build a flavour landscape of ingredients like this one: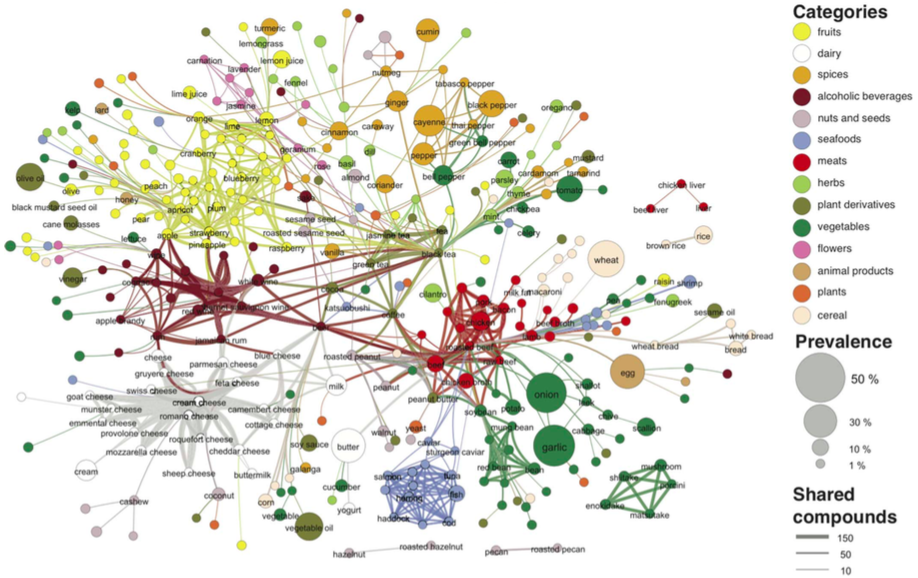 On www.plantjammer.com, users will be armed with this new understanding of flavour, so they can make amazing foods that are plant-based.
Let us take eggplant as a case study: Want to re-experience the floral, citrusy, umami experience of the eggplant Michael tasted 3 years ago? We can reverse engineer the taste with a regular eggplant, by using the flavour landscape. Result:
Coriander seeds can bring the citrus flavors
Pomegranate can bring floral notes.
To get the umami aftertaste one can add some tamari or miso
To get the right mouthfeel one needs an oil, and sunflower-oil is a good match with the above
Finally, to get to the buttery texture one needs to devise a process that heats the eggplant slowly from within. That can be achieved by salting the eggplant for 10 minutes, drying the eggplant and then put it in the oven for a long time (40-60 minutes).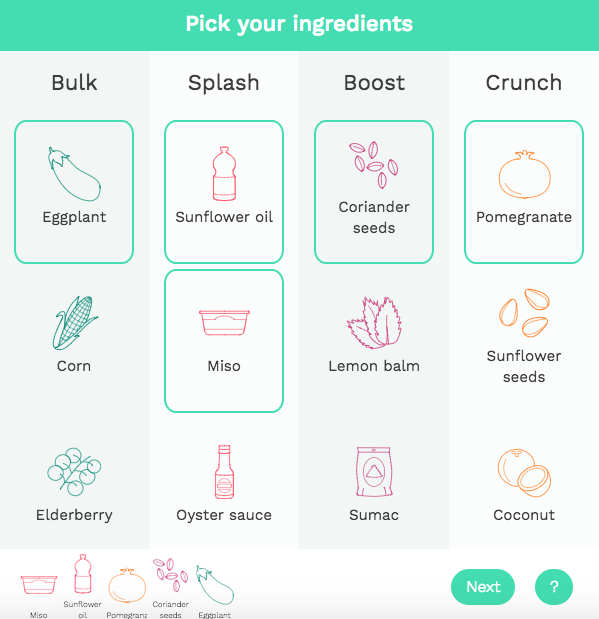 It sounds complicated, but Plant Jammer does all we can to make this crazy simple with good design. See if it works for you on www.plantjammer.com. Our vision is to make it really easy and delicious to cook plant-based.
Also, if people start appreciating the taste of a good vegetable, they will demand better eggplants, carrots, zucchinis etc. With a sufficient demand pull, farmers will finally be paid for quality rather than quantity!