Recipes dont have to be so dumb
Michael Haase
5. December 2019
How to make your online recipes personalized but still ALWAYS delicious? In this document we describe how we use AI, crowd-intelligence, and gastronomical algorithms to make online recipes smarter.
The problem with online recipes: They are simply "cookbooks on a screen"
Try searching for a recipe. It is hard to find an easy recipe you want to eat with your available ingredients. As a result, 80% of people in the Western world cook less than 10 different dishes per year — we seldom change.
So, why is it so hard to find the right recipe? Because most online recipes are simply "physical cookbooks on a screen". They cannot be modified to individual tastes, diets, or availability. So, if you don't hit the perfect recipe you have to search all over.
We believe, this kind of online recipe will soon be considered much like flow-tv prior to Netflix or music prior to iTunes: "Created and perfected for the average user, but not for me".
The solution: Modular recipes that can be personalized on demand
With Plant Jammer's technology, users can seamlessly pick and substitute their own ingredients and volumes in their recipe. Most importantly, Plant Jammer's technology ensures that the users' modifications do not jeopardize the quality or integrity of the recipe.
As shown in the app, "Plant Jammer", the technology even allows users to create their own recipes from scratch: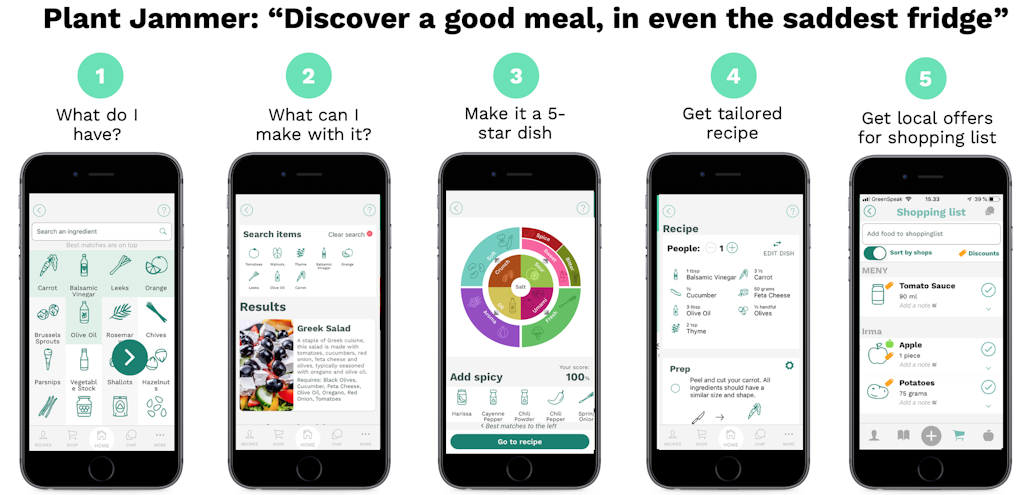 Realizing the power of the technology within the Plant Jammer app, we spent the past 3 months opening the technology up for third-parties, like Dr Oetker, Miele, and Vorwerk.
We have noticed several powerful user experiences that the technology enables:
Discover a good meal, in even the saddest fridge
Seamlessly create tonight's dinner recipe while grocery shopping
Create a mealplan for the coming week, based on similar ingredients but with a variety of tastes
Substitue an individual ingredient in a recipe, to accomodate a recipe to a particular diet or preference
Reach out to michael@plantjammer.com to access the technology for your app, blog, or website.
How does Plant Jammer provide flexibility while ensuring quality?
We are solving a hard problem: Creating personalized recipes while ensuring high taste quality.
Many large supermarkets, kitchen equipment players, and recipe companies are spending significant resources trying to solve this problem. However, to our knowledge, most are failing because they apply pure AI technologies to the problem.
Our secret: Yes, we use AI… but our algorithms go way beyond AI. We combine AI with gastronomical learnings from chefs. The gastronomical learnings create a straight jacket for the AI to work within, which ensures the quality.
This is the full suite of Plant Jammer's technology (notice that AI is only a fraction of it):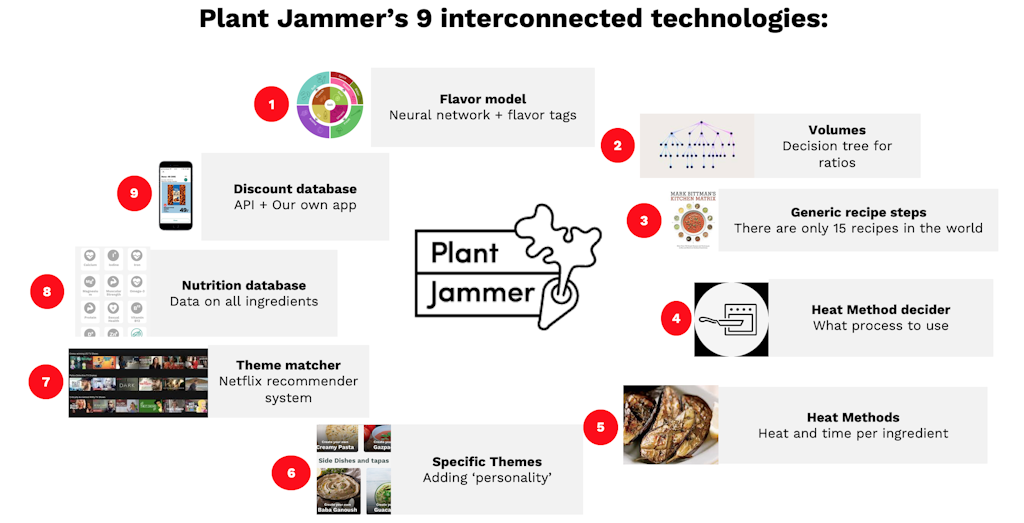 Combining Plant Jammer's databases of flavor tags, processing knowledge, and recipe steps is the result of thousands of hours of structured work between chefs and data scientists. Now that it is built, it can be quickly applied to all kinds of gastronomies without any programmers involved. The Plant Jammer technology already covers cocktails, pastas, risottos, juices, smoothies, muffins, porridges, Kombutcha, sous vide, Thermomix recipes, and much more.
Plant Jammer's technology enables recipe creators to create a gastronomy rather than just a recipe. This requires a little extra from recipe developers, but creates a much richer user experience. Importantly, it also dramatically reduces the cost per recipe developed to around €0.05 per recipe.
It won't work for us!
The originality and functionality of Plant Jammer's technology is re-confirmed by the tech prizes we received: IBM Watson AI prize in 2017; two times Innobooster funding by Innovation Fund Denmark in 2017 and 2018; Creative Business Cup winner in Bangkok 2018; Winner of Nordea's AI start-up battle prize in 2019; Green Entrepreneur of the Year at Veggie World 2019.
Are you concerned that it won't work for your particular brand or gastronomy? It is very common to have this concern, because flexibility tends to come at the cost of quality. However, we have experience working with Brands that are very focused on taste guarantees (e.g., Dr Oetker, Vorwerk, Miele, and Dupont). These Brands have all been sceptical at the beginning but eventually they were convinced about the taste guarantee our technology provides.
Our API is already used by Miele, Vorwerk, and Dr Oetker. Examples of other players we would love to work with: Edeka, Netto Market-Discount, Meny, Irma, COOP, ICA, Samsung, Bosch-Siemens Hausgerate, and Dupont. Don't see yourself on this list? Reach out to michael@plantjammer.com if you want smart recipes on your app or website.